JC Dance Stars 2018
March 17 @ 11:00 am

-

5:00 pm
Event Navigation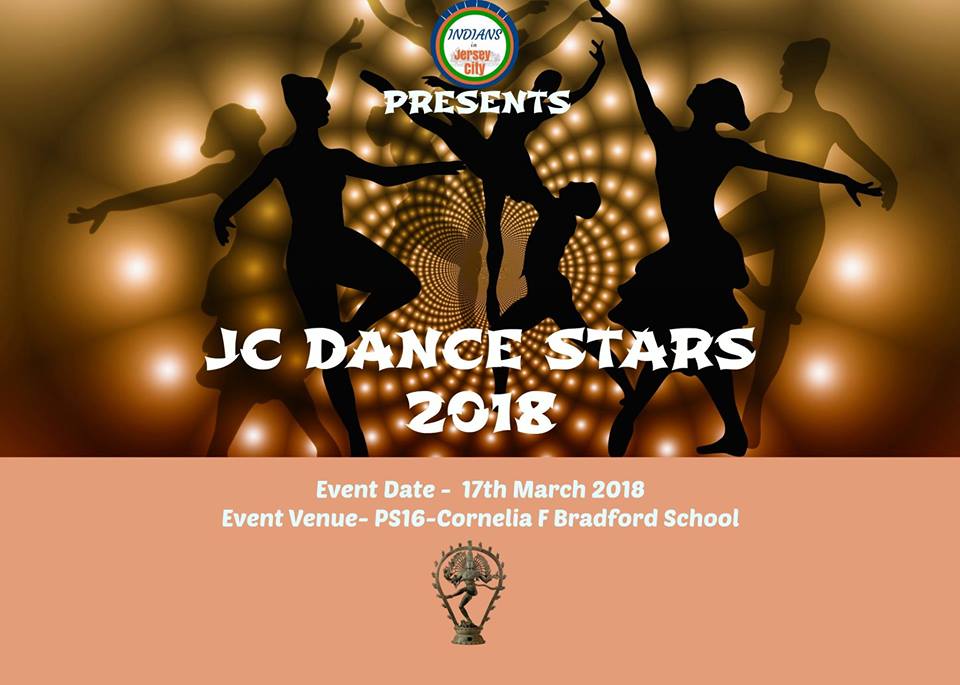 JC Dance Stars 2018: An Indian Dance Competition In Jersey City
Competition Guidelines:
PS: All the participants of the Dance competition will directly qualify to participate in the Indian Independence day celebration Organized by Indians in Jersey City in August 2018.
Click below to register :
Solo dance: https://goo.gl/forms/WXAEKbOjYzlaTkT82
Duet/group: https://goo.gl/forms/MCxgGizYXDYi0WG02
Competition Categories
Solo
Duet
Group of 4,6 & 8
Competition Requirements:-
1. This Competition is for kids, Teens & adults, No professional
dancers and dance teachers are expected to participate.
2. To qualify to enter in the Competition you must be 4 yr old, there
is no maximum age limit for the participants.
3. Maximum two entry allowed by a participant, Only in a case If
he/she registers for a Solo & group both separately.
4. Participation Fee will be Paid separately for each entry.
Participants who register more than the permitted entries will be
disqualified.
5. All participants will pay a registration fee of $45+taxes. Fee paid
once is non- refundable and non- transferable. Any Registration
made without payment will not be accepted.
6. Kindly Carry a proof of age along with you at the event venue, in
case required for any verification or by judges or by Organisation
Team.
7. All participants MUST arrive 30 to 45 minutes before the
scheduled performance time.
8. All participants /Guardian's will be required to sign a Liability
waiver on the day of Competition before their performance.
9. All participant will be required to sign in & collect their bib
numbers assigned against their name.
10. Only Two Guardian's/Parent's are allowed to accompany each
participant.
Music/Song/Rhythm:-
1. No Dance performance time should exceed the maximum time of
3 minutes.
2. All participants/groups will be required to send their songs in
advance, Maximum seven days before the competition.
3. There would be no songs changes and updates taken at the day
of the event.
Judging Criteria:-
1. Timing: Timing points are determined by the ability of the dancer
to dance on the Down beat of the music.
2. Technique: "How Well You Do What You Do": We are looking for
good footwork, balance, control, form and how well
your dance techniques are executed. Well controlled
arms and hands.
3. Teamwork: This will apply to the group/duet performances. The
ability of the partners to work together as a team. One
person should not be obviously "out dancing" the
other.TEAMWORK with action-reaction is essential in
good dancing
4. Presentation: "What You Do": the main content is the
CHOREOGRAPHY, planned or spontaneous, and
musical interpretation through physical movement.
How you present the whole performance.
Judges:-
1. There will be a minimum of three Judges for the competitions.
All the decisions will be taken by judges for the competition and
all participants will have to accept the judge's decision.
Results Announcement/Winners:-
1.There will be separate winners in each age category & Dance
Category.
2.There will be 2 to 3 time slots for winner announcements during
the day/event.
3. All the participants will be given Participation Certificate &
Participation Medal.
4. All the winners will be given Winning Certificates and Medal along
with additional prizes.
5. Prizes are non–transferable and there is no cash alternative.
Indians in Jersey City reserves the right to substitute prizes of
equal or greater value at any time.
6. When a winner has been selected and Indians is Jersey City has
reasonable grounds to believe the winner has breached any of
the rules. In this event Indians in Jersey City have all the rights to
select an alternative winner. Any further winner will be selected on
the same criteria as the original winner and will be subject to
these Rules.
Frequently Asked Questions: –
Ques1. Can I register for two solo Performances in different Dance
Category?
Ans1. No, you can only register for two performances, if it is one solo and one group.
Ques2. I filled up my form and forgot to make my Payment.
Ans2. Kindly Follow the link below to make your payment for the solo dance registration.
:https://www.paypal.com/cgi-bin/webscr?cmd=_s-xclick&hosted_button_id=X7GVU3KR92VUL
The above link is only for the solo form registration, for group registration, you will receive a separate payment request link in an email.
Ques3. I am 45 yrs old, can i register for dance competition?
Ans3. Yes, There is no maximum age Limit for the registration.
Ques4. I am performing a Indian Classical dance form on a Bollywood number, which dance category should i select?
Ans4. Dance Category should be decided based on your dance form not based on a song, so in the above situation you will choose the Indian classical.
Ques5. How will I know what time is my performance?
Ans5. You will receive the performance schedule few days before the event, Arrive 30-45 mins before your scheduled performance time.
Ques6. I have a group of 4 in which we have different age category people, can i register?
Ans6. Yes, kindly select the age category based most senior member of your group.
Ques7. If I wish to register for solo and group both, how much time will i get to change my costume and make-up?
Ans7. All the Solo performances will be happening in the first half of the time and later the group performances after solo prize distribution, so All the participants will have sufficient time to change the costume and makeup.
Ques8. I don't live in Jersey City, Can i participate?
Ans8. Yes, anyone in new jersey can participate in this competition.