Where to find South Indian Thali in Jersey City
The winter has gained full steam and the smell of holiday flavors, cinnamon, chocolate, pumpkin spice, caramel and winter goodies is filling up the air. The doughnuts , hot chocolates and cakes are moist, luscious and tempting everyone with their warmth and offering the respite from the chill outside.
But if the sweetness has overloaded you and you are craving a full meal overloaded with authentic Indian spices, the tantalizing flavors, the aroma of masalas and the sizzling tadkas, we know what you crave ! A full blown unlimited South Indian Thali Meal !
So here is our curated list of top 5 places to enjoy a South Indian Thali in Jersey City. Read on and Enjoy!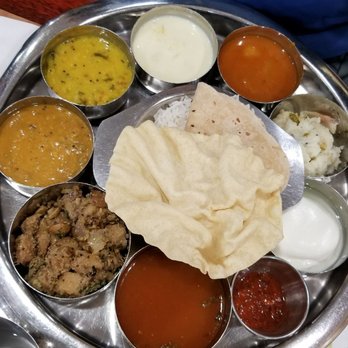 Address :804, Newark Ave,Jersey City, NJ 07306
Phone Number :  (201) 533-8400
Sapthagiri prides itself as one of the long standing restaurants bringing in authentic south Indian flavors to its patrons. Nestled in between Newark Ave and the famous Indian street , this place has both dine in and take away options. The menu will spoil you with the plethora of choices, yet the thali has a separate section on the menu. The south Indian thali features a full plate of kootu, dal, poriyal, special rice , Rasam , Sabhar, chapathi, yogurt, condiments and sweets. It is priced at $13.99 and will leave you feeling happy and wanting to coil under a blanket with a belly full of favorite items! Try Sapthagiri Thali and thank us later.
Head to Sapthagiri if you are craving for south Indian thali in Jersey city .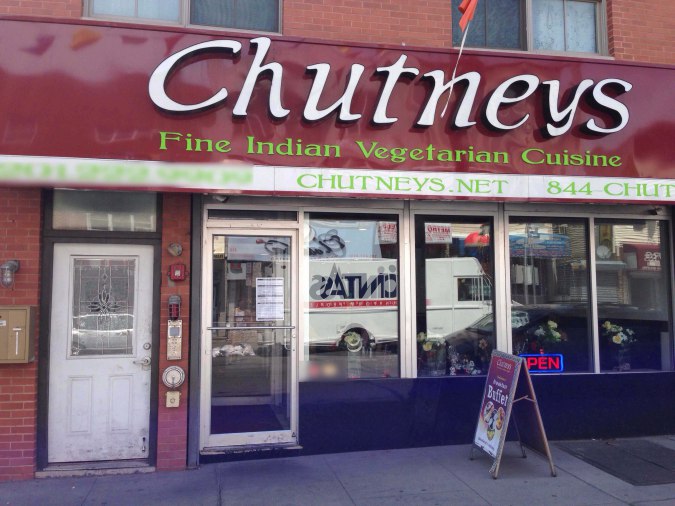 Address – 827, Newark Ave, Jersey city , NJ07306
Phone No. (201) 312- 6923
Visit :chutneys.net
Another fine place serving a full South Indian thali is Chutneys. Located in between Indian street and Tonnel Ave, Chutneys delights its patrons with exhaustive menu. From Snacks, Pakodas,many types of idlis and dosas , samosas and pav bhajis– Chutneys has long standing patrons. Chutneys also serves four kinds of Thalis– chose from Madras meal, Andhra meal , chutney's special and north Indian. Since we are on subject of south indian meals you already have choices to make. Relish the dosa, rasam, Sambar, Vegtable curries ,rice , Parotta , buttermilk and dessert. Each of the south indian Thali is priced at $13.99. Get to chutneys and enjoy a south Indian Thali guilt free.
One of the best places to fill yourself up with a South Indian thali in Jersey city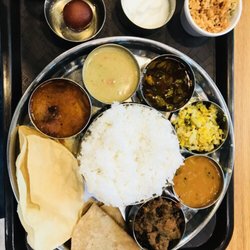 Address – 105, Greene st, Jersey City, NJ 07302
Phone – (201) 434- 2300
Website – www.smvs.org
Right besides the US post office and very close to Van Voorst park sits another gem for South Indian Meals in Jersey city. Traditional flavors and authentic recipes differentiate Sri Annapoorna Bhavan. This place offers both dine in and take away options. The restaurant serves both South indian meals and a mini meal for light eaters. Competitively priced at $9.99 , you can get chapathi/poori, kurma, rice, sambar, special curry, rasam, vegetable , curd , condiments and sweet all in one go . Enjoy the south indian thali at Shri Annapoorna Bhavan in Jersey city .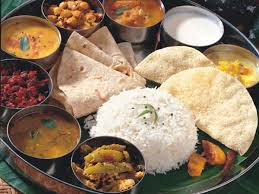 Sarvana
Bhavan
Address – 81 Lexington Ave, New York, NY 10016
Phone – (212) 684-7755
Who doesn't resonate with the famous name of Sarvana Bhavan if you have any inkling about how awesome and delicious south Indian authentic food is. This restaurant is a chain of long standing Sarvana Bhavan, which has now spread across the world and is a benchmark for this cuisine. This restaurant chain also has two other branches in New york and another in Edison NJ. On a chilly evening in NY, this place will please you with filter coffee and your choicest food. The south Indian thali boasts of Rice, chappati 1, sambar, rasam, kurma, kootu, poriyal, special kuzhambu, curd, special raitha, sweet pachadi, papad, pickle and sweet, Phew! Priced at $19.99 , fill yourself with flavours, aroma and delicacies . Enjoy a delicious south Indian Thali at Sarvana Bhavan.

Adyar
Anand
Bhavan
Address – 1071 1st Avenue, New York, NY 10022
Phone – (212) 750-6666
Approximately 45 minutes away from Jersey city , hop onto a train and get to this famous 
south indian food serving mecca. The food variety at this place has been proved over a period of time and the patrons of Adyar Anand Bhavan are hooked onto the flavors and the delicacies this place consistently offers. From snacks, appetizers, filter coffee , soup, idlis, Samosas, pullav, biryani to the large spread of deserts to chose from , Anand Bhavan is a foodie's delight. The Thali at this place is – eat as much as you like! White rice, Variety rice, Sambar, Rasam, 3 south Indian curries, curd, pickle,Papapdam, Roti and desert . Enjoy this full serving for $19.95.
Round up this full blown meal with a steaming cup of filter coffee and share with us how happy your tummy was!
We curated a select list for you about 5 places to enjoy a South Indian Thali near Jersey city. Now head to any of these places during lunch or dinner and we hope that this authentic food and flavors soothes your soul and you wish to just coil under a blanket to beat the chill!
Enjoy winter with a flavor of South India! Chose any of these places for south Indian Thali near Jersey city.