Hindu Temples near Jersey City
The importance of visiting a temple and praying is paramount in Indian culture. Whether done weekly, during a festival, on a special occasion or purely to feel closer to the supreme Power. When Puja is done by a devotee the positive energy and the environment brings in a sense of peace and calm . The light of the lamp and the heat energy, the mantras and the chanting by the poojaris, the aarti, the ringing of the bell , the fragrance of the flowers and the burning of the camphor takes the devotee to a state of trance , making him concentrate and feel closer to the divine. The forces exhibit the positive energy that makes a worshipper forget his problems and seek the divine intervention.
We bring to you a list of temples near Jersey city. Each temple is unique and God's abode, but each is different in its own unique way and operations- For temples mean much more than religion – they are sign of hope and faith.
Here is the list of temples near Jersey City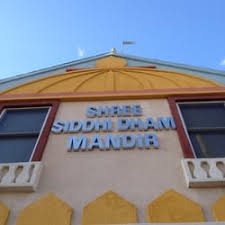 Shri Siddhi Dham Mandir 
Jersey city
Address :126 Van Winkle Ave,Jersey City, NJ 07306
Phone Number :  (201) 216-9468
If you have been to the Journal square Indian Street, you cannot miss this small temple overlooking the market . Located right at the street , this temple houses idols of Durga, Ganesha , Krishna, Sai Baba, Shiv Linga and Radha Krishna. The temple is also decorated with jewels and ornaments and all Idols share a hall space.
Special Aarti is performed every Thursday followed by a Langar .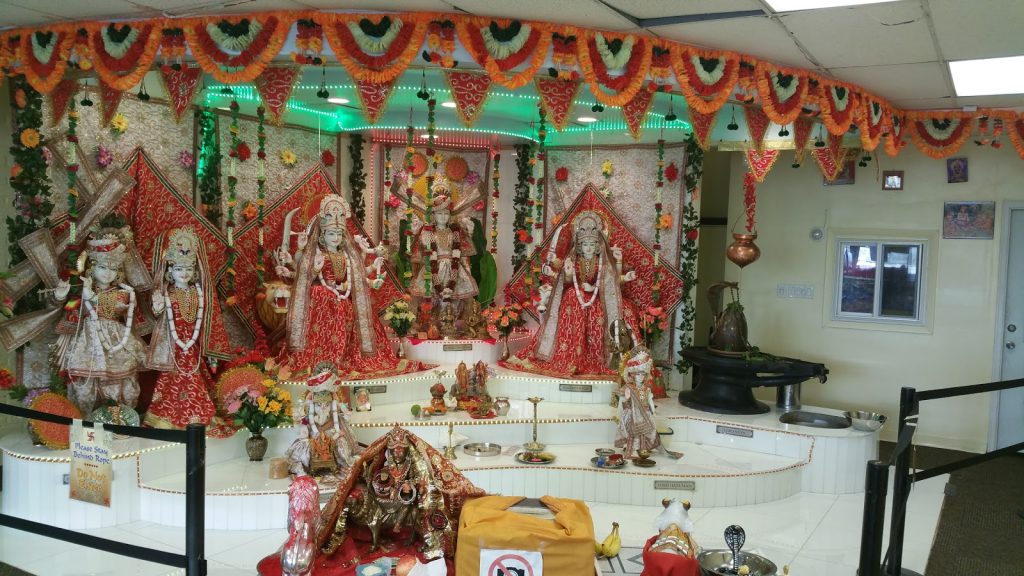 Sri Satyanarayan Dham
Address – O 3035 John F Kennedy Blvd,Jersey City, NJ 07306
Phone No. (201) 706-2877
Visiting Hours :8:00 am – 12:30 pm and 4:00 pm – 8:30 pm
This Hindu Temple houses idols of many Gods – Shiva, Ganesha , Sai Baba and Radha Krishna. The temple is very peaceful and decorated well. The temple also celebrates festivals such as Shivratri. Head here if you are trying to look up for temples near Jersey city.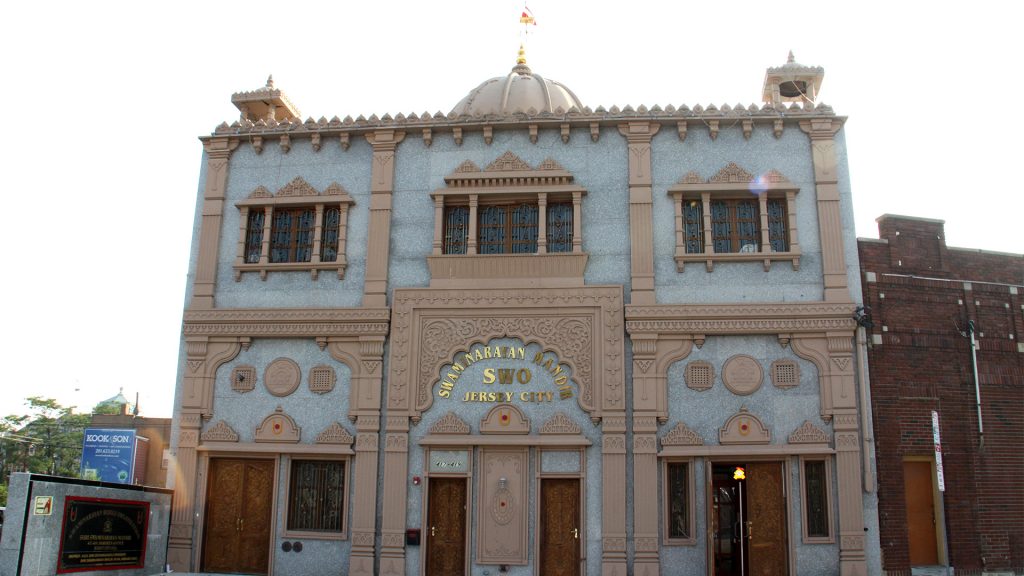 Address – 417 Hoboken Ave, Jersey City, NJ 07306
Phone – (201) 239-6466
Website – www.smvs.org
Timing : 6.00 am to 12.00pm 4.00 pm to 7.00pm
SMVS stands for Swaminarayan Mandir Vasna Sanstha and they have many temples in India and in USA. A beautiful temple with idol of Swaminarayan placed in a small hall. Visit here if you are looking for temples in Jersey City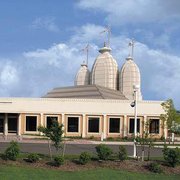 Address – 200 Penhorn Ave, Secaucus, NJ 07094
Phone – (201) 325-0510
Website– swaminarayangadi.com/newjersey
Shree Swaminarayan Temple of Seacacus was established in 1987. The temple is made in a large space and is carved in marble. Rendering quiet, peace and beauty to this place. The temple has an extremely peaceful and charming atmosphere which calms the worshipper and helps concentrate on the divine of Lord Shree Swaminarayan, Jeevanpran Shree Abji Bapashree, and Jeevanpran Shree Muktajeevan Swamibapa.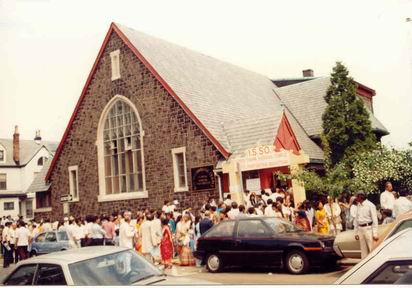 Shree Swaminarayan Hindu Temple
Address – 4 Louisa Pl, Weehawken, NJ 07086
Phone – (201)865-3987
This is the first Swaminarayan temple in North America and overlooks the skyline of New York. It is the national headquarters of the ISSO. Tranquil neighborhood and architecturally marvelous, this temple is located in peaceful area and the energy of this place is divine. Head here if you are looking for temples near Jersey City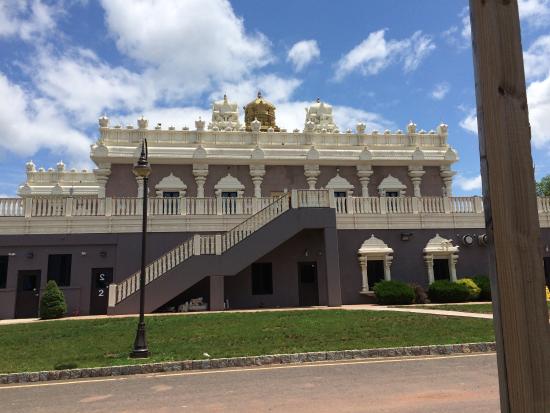 Shree Venkateswara temple( Balaji Mandir)
Address – 1 Balaji Temple Dr, Bridgewater, NJ 08807
Phone – (908) 725-4477
Approximately 40 minutes away from Jersey city this is a beautiful temple, clean, large temple surrounded by lush green and very well organized. The temple is devoted to Balaji and in the main hall you can find idols of Krishna, Shiva and other Hindu Gods. The 
traditions in this temple are followed religiously and many Hindu festivals are celebrated with galore. They also have a small cafeteria that serves delicious Indian vegetarian food. Head here if you are looking for temples near Jersey City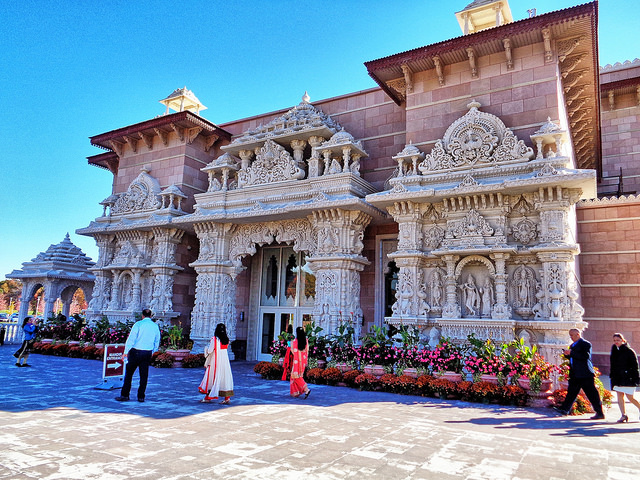 Address – 112 N Main Street ,Robbinsville, NJ 08561 USA
Phone – ( 609) 918- 1212
Website : https://www.baps.org/
We cannot sum up this list without the mention of our last entry. Just an hour away from Jersey city – An Architectural marvel made entirely out of hand carved marble , this temple is a outstanding 162 acre place of worship. This temple is the largest Hindu temple in the world and sees people from all religions swooning over the masterpiece that it is. The temple's intricate carvings feature 98 sthambhas (carved pillars), 66 peacock style arches, 144 sacred figures, 91 elephants with various musical instruments and flowers, 58 decorative ceiling designs and more. It is bigger than any Hindu temple by a long shot. No matter what religion or faith you follow, visit this temple for it is no less than a wonder.
Follow our curated list of temples near Jersey city and experience the peace, tradition and culture .