Diwali events
in
Jersey C
ity
The biggest and one of the most significant festivals in Indian culture, Diwali is celebrated around the world by Indians. This festival is accompanied by firework displays, prayers, diyas, and the families come together to enjoy the celebration of ' triumph of good over evil'.  Here we have included all the fun family Diwali events in Jersey city.
Diwali is traditionally celebrated over a period of 5 days and marks the return of Lord Ram and his wife ' Sita' after defeating Ravana..
Each state and faith have different ways of celebrating Diwali but the common theme of food and fireworks remain consistent.
Families and friends come together during this time and nights are spent playing card games. Bazaars are lit up with lines of Diyas and array of sweets . Savory items also see a tantalizing line up and gifting sweets and other items is part of the culture. The entire atmosphere gets lit up not only by the lights of Diwali but the excitement in everyone's eyes, the smell of delicious food from the kitchen and star studded sky.
If you are missing the Diwali atmosphere and the fun you so much yearn to have and started looking for events, we bring to you the top 5 places to head to for this Diwali events in Jersey city.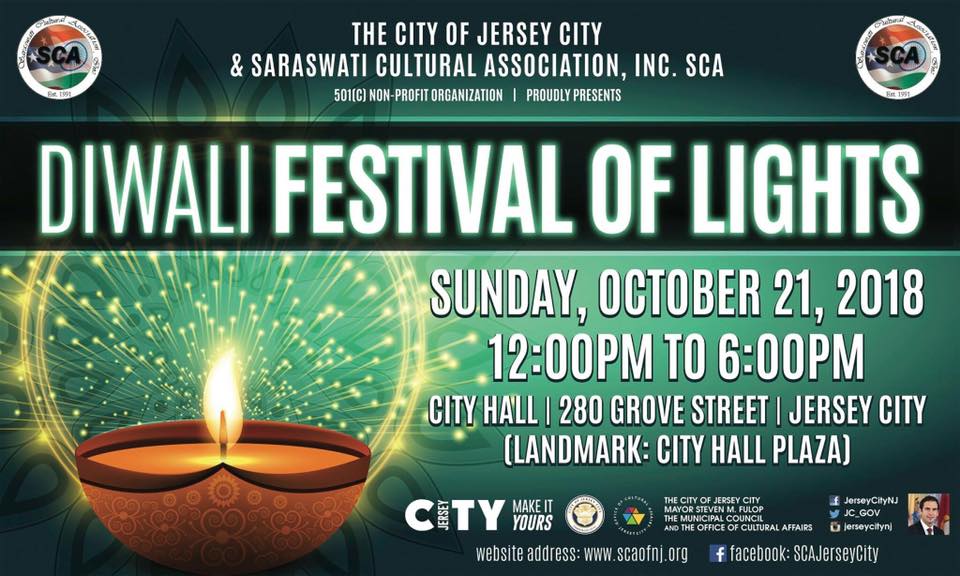 SCA Festival of lights – Diwali
2018
:
Jersey city
Dates : October 21st 2018; Time 12PM-6PM
Venue : City hall ,280 Grove st, Jersey city NJ 07302
Hosted by : Saraswati Cultural association of New Jersey
Website : www.scaofnj.org
This event tops our list of Diwali events in Jersey city. The Saraswati cultural association of New Jersey was founded in 1991 to promote cultural awareness amongst the diverse community in the tri- state area. They have hosted successful fun filled Diwali events in the last few years. And if the super successful last year event at Exchange place is the benchmark, this is one Diwali event not to be missed. It's a free event with Live music, many cultural performances, raffles , activities for kids and many other attractions accompanied by traditional, mouthwatering and delicious food. Head here for a star studded night and a fun evening and enjoy this Diwali event in Jersey city.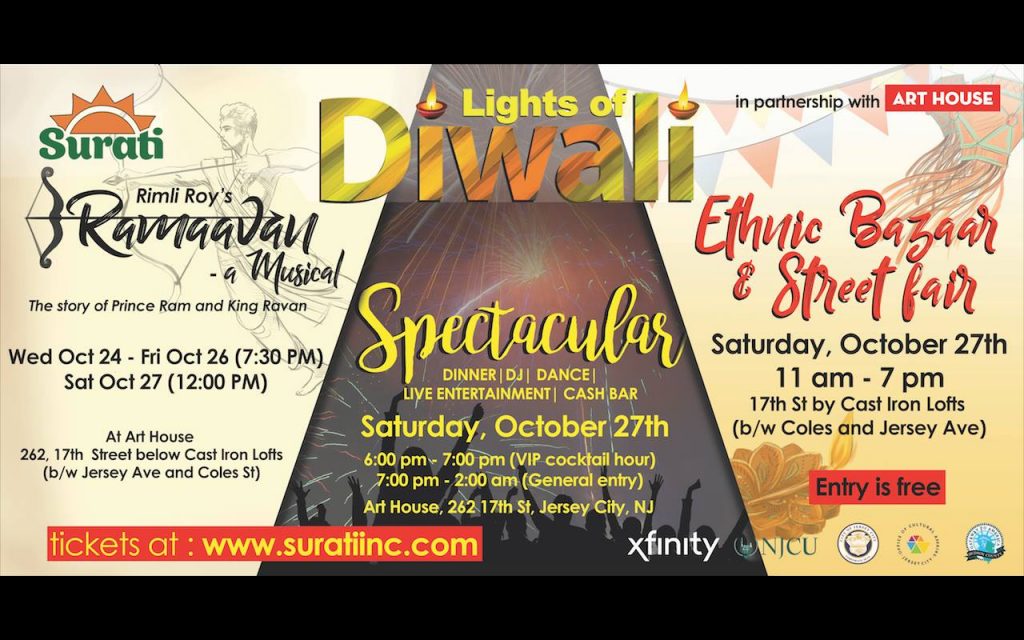 Biggest
Surati
Lights of Diwali 2018
Dates – October 24 at 7:30PM- Oct 28 at 2AM
Venue – Art House productions, 262 17th street, Jersey city, New Jersey 07310
Hosted by : Surati for performing arts and education
Website- suratiinc.com
The Surati for performing arts Diwali 2018 , is one of the most elaborate and promising Diwali festival. Spread over 4 days it promises to be the culturally relevant, fun filled largest festival in the area. And in case you are thinking of where to find Diwali events in Jersey city do check the event details.
The line up of the events are very interesting and entertaining beginning with Rimli Roy's "RAMAAVAN" – A Musical – An original Broadway style production bringing the Ramayana alive on stage through theater, drama & songs.
The mega event also includes Diwali Ethnic Bazaar and street fair with many vendors and activities making it a fun event.
And finally the 4 day event includes the Diwali Spectacular –Indoor gala style Diwali party which will entail a fashion show, cash bar, kids hang out , live entertainment. And this is one place not to be missed in Diwali events in Jersey city.
The Gold Diwali – The  corporate Diwali hosts & Burgeon Jewelry event
Dates – Nov 4 , 6PM onwards
Venue – Liberty House, Jersey city
Hosted by Burgeon Jewelery this is the longest running tri state diwali event ( 13 years ). This year the Mayors office is felicitating  honoree for women empowerment . 
The event comes with a 4 hour open bar and dinner follows. DJ& Dance to glamour up the event. Planned out event for children with stories, Rangoli etc to get the little ones engaged and happy. The event costs $75 per adult and $30 for children (2-12)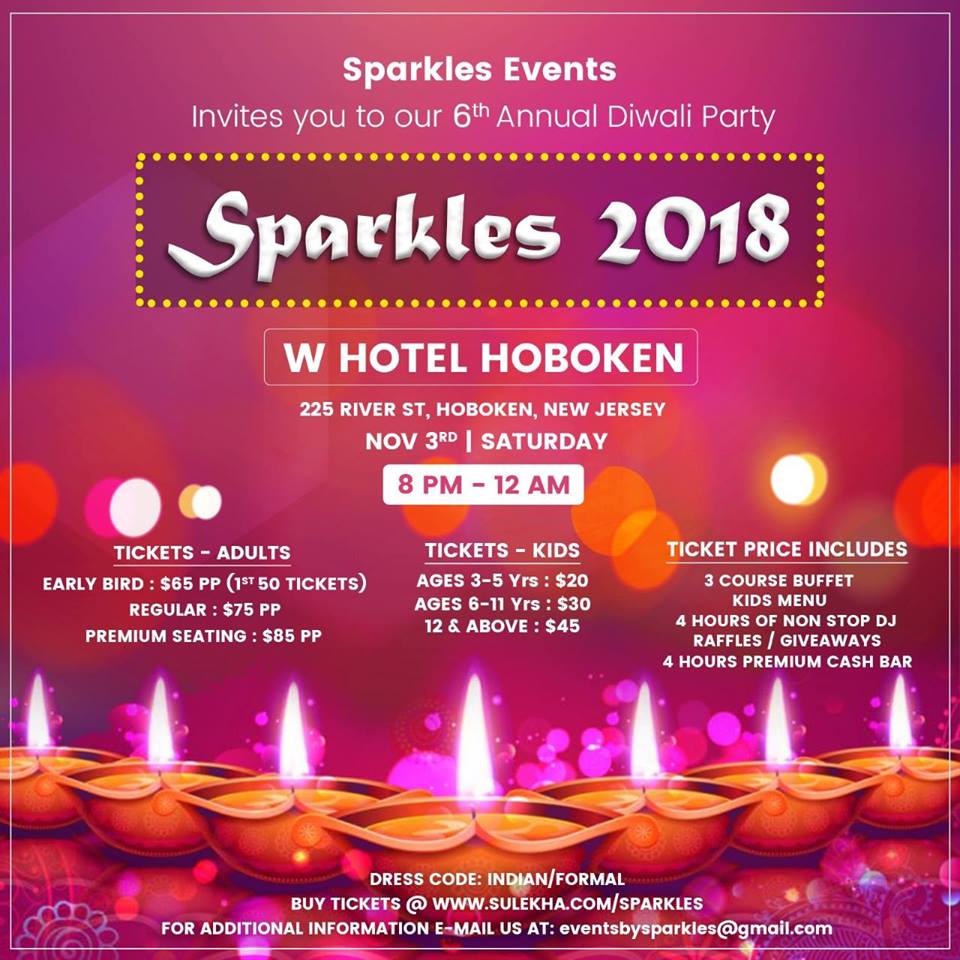 Sparkles Annual Diwali party –
2018
Dates – Nov 3 , 8PM -12AM
Venue – W hotel, Hoboken.225 river St, Hoboken , New Jersey
Hosted by – Sparkle events
Hosted by Sparkles Events ,2018 Diwali party is their 6th event. If you are looking forward to a glittery night complete with glamour, unadulterated Diwali entertainment and an evening to remember– just head to the Sparkles annual party. The venue is the charming W hotel in Hoboken. The event includes a sumptuous 3 course buffet and non stop entertainment, DJ &Music . Raffles and giveaways to keep the excitement going and return favor for every family, just an an icing on the cake. The kids breakout rooms and caretakers on premise for kids is a sure shot delight. This could be your choice for Diwali events in Jersey city

Diwali cruise on the Hudson
Dates – Nov 3, 6:00pm onwards
Venue : Starts from Harbor lights yacht,2430 FDR drive, New York, NY 10010
Website – www.diwalicruise.org
Although this option is not in Jersey city, but we could not skip this different and luxurious star studded choice
The Diwali cruise on Hudson is a chance to celebrate Diwali in style aboard an ultra luxurious cruise. They have a special Diwali festival on 3rd Nov . This yacht party is for 21 years old and above and offers a star-studded, fun and beautiful evening with celebrity DJ performance and a cash bar. Food is available on premise. The dress code is trendy and chic just like the experience that promises to be one of its kind- Diwali on a cruise.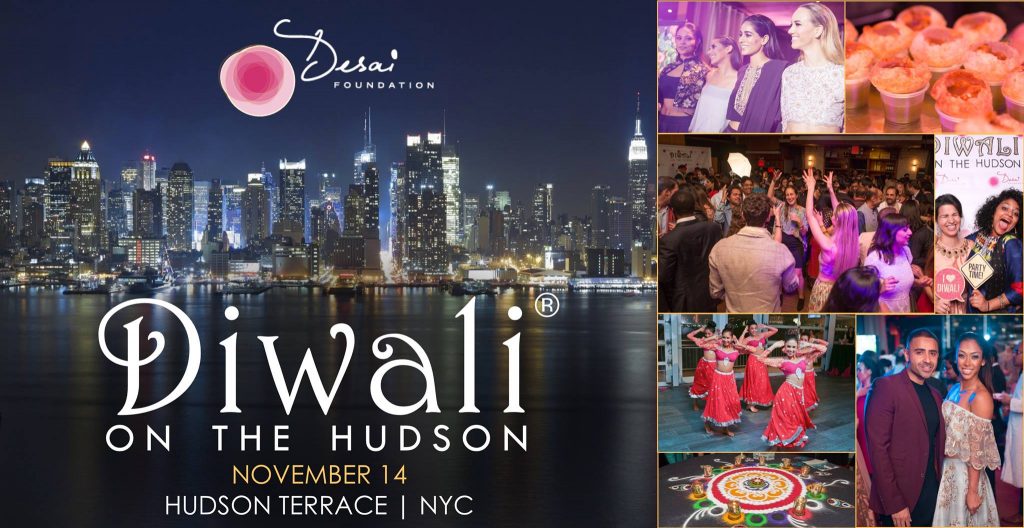 Diwali on the Hudson
Dates – November 14 2018
Venue- Hudson Terrace, 621 W 46th St, New York, NY 10036
Hosted by – Desai foundation
This venue is also not in Jersey City, yet when its noted by eminent columns, we should make a mention of this event in our line up for Diwali events 2018.

Featured in the The New Yorker, Fast Company, Thrillist & one of India.com – Americas' "Diwali Events You Must Check Out in NYC" , If this is said about Diwali on Hudson hosted by Desai foundation , then you know this event will be outstanding and in demand. Diwali on the Hudson is turning 5 this year and in such short time they have managed to get their event noticed by celebrated publications. They boast of an all night-sponsored bar, Indian cuisine and top class entertainment. A must go place for Diwali event.
We bring to you top places to go for Diwali events in Jersey city, and you are sure spoilt for choice. Celebrate Diwali in style. May this season bring in prosperity, health ,wealth and happiness.
Happy Diwali from Indians in Jersey city