Indian Independence Day events in Jersey City and NYC
On 15th August 2018 Republic of India will be celebrating its 72nd Independence Day. Indians in Jersey City can mark this celebration with multiple events happening in and around Jersey City. Indians in Jersey City brings you the list of these events, please read along to know more about these events
Indian Independence Day Celebration in Downtown Jersey City
City Hall Plaza, 280 Grove Street, Jersey City
August 11, 2018 @ 4:00 pm – 8:30 pm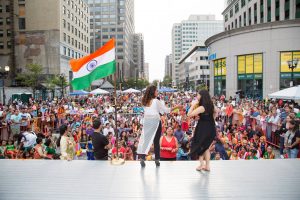 Downtown Jersey City will be hosting its fourth annual Independence Day celebration at City Hall Plaza from 4.00 p.m. to 8.30 p.m. Event will kick off with parade lead by exuberant NJ Dhol-Tasha group. Continuing its tradition event will see long line up of several cultural performances by the young ones and adults displaying several genres of art form within Indian cultural diaspora. As you swoon over the patriotic songs your taste buds will have chance to enjoy traditional Indian delicacies as several well-known Indian restaurants will have their stalls at your service. Fun, frolic and patriotism – everything you need to complete your Indian experience in Jersey City will be bundled up at this single event.
India Day Parade in NYC
Madison Avenue, 27th – 38th Street, NYC
August 19, 2018 @ 12:00 pm – 6:00 pm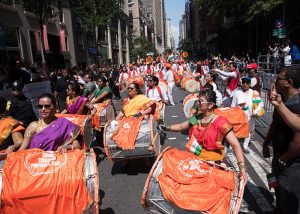 While Jersey City's own Independence Day celebration remain favorite for the locals, those looking for one more reason to head out to city can attend India Day Parade organized by Federation of Indian Associations. FIA is hosting it's 38th annual India Day Parade on August 19th, 2018 , Madison Avenue, New York City.
The Parade starts at 12.00
p.m.
on 38
th
street and head towards 27
th
street
wit
h ceremonial National Anthem performance of India and United Sates with NYPD horses and police band in attendance. There are around 40 floats and several groups
marching
in the procession. In the past several Bollywood luminaries like
Rana
Daggubati
, Anushka Shetty
and
Vidya Balan have graced the post of
Grand
Marshal at parade.
 There will be cultural stand at 24the street showcasing live performances of several Indian art forms. Cultural performances are expected to start at 2 p.m. and last till 6 p.m. Between 24th and 26th street you can savor Indian delicacies and purchase Indian merchandise.
It is advisable to carry sufficient hydration, sun protection and even portable sitting arrangement for the juniors and seniors in your party.
Please check week end PATH schedule for the day before you head out.
India day parade is a fete to reminiscent of our glorious motherland and its rich heritage.
Indian Independence Day Flag Raising and Celebration
City Hall Council Chambers, 280 Grove Street, Jersey City
Date: August 14th 
Time: 10 to 12pm
Office of Welcoming Communities of Jersey City Municipal Council and Govinda Senior's Army
in past had Flag hoisting ceremony at City Hall. Ceremony begins with flag hoisting by Mayor of
Jersey City. Children's performance begins at 10.00 a.m. till 12.00 p.m.
Indian Independence Day Parade
Oak Tree Road, Edison
Date: TBD
Indian Business Association organizes New Jersey's biggest India Day parade. The parade
follows Oak Tree road from Edison to Woodbridge. Indians in Jersey City can take this 40 min
drive to Oak Tree Road. There is no dearth of parking and you can find New Jersey's some very
famous Indian restaurants lined up along the road. The parade last year attracted around
40,000 spectators. Ritesh Deshmukh was grand marshal last year and expect some luminary
from India to grace the occasion this year also. There will be several floats, marching bands and
walking groups participating in the parade.
Indian Day Mela and Parade
Boardwalk, Atlantic City
Date: TBD
India day mela at Atlantic City gives you a chance to enjoy sunny afternoon along sea side and
attend cultural events organized by South Jersey Indian Association. According to SJIA there will
be colorful floats, accompanied by Indian music and dance bands and DJ's playing Bollywood
hits. The parade will be followed by a"Mela" (Carnival) that would showcase cultural events,
cuisine served from the many stalls and even display merchandise of India.
Jai Hind!